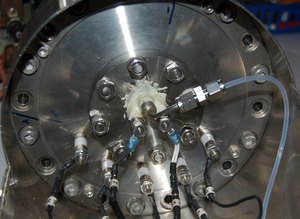 Hypertriton Inc. is an independent R&D firm with a versatile, small-scale manufacturing plant located in Havre-aux-Maisons, QC.
Our Facilities enable us to make a wide array of items in a reasonable time frame. We can provide precision-machined parts, sheet-metal items (including complete chassis), circuit boards and a wide variety of specialized parts. We can manufacture processed electron tubes as well as general high-vacuum equipment (steel chambers, ion sources, detectors, etc).
Our warehouse / online store, ElectronTubeStore.com, carries a wide array of different materials, in many different forms. We also provide electronic parts, connectors, electrical hardware and more. We ship worldwide, inexpensively.
Our hosting service, Csoft.net, has been in continuous operation since 1995. Csoft.net provides low-cost, enterprise-grade web / e-mail / shell hosting. Our redundant server arrays (located in New York and Montreal) provide unparalleled speed and perfect availability.
Our unique collection of Free Open-Source Software includes libraries / development toolkits, content creation tools, Unix server daemons, as well as scientific and engineering applications.