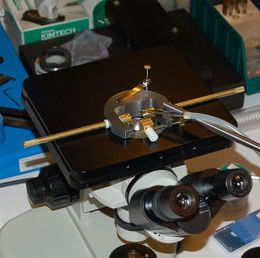 Hypertriton is an independent R&D firm with advanced manufacturing capabilities, located in Quebec. Our Facilities enable us to supply a wide array of custom items in a reasonable time frame. We can provide precision-machined solid parts, sheet-metal items (including complete chassis), circuit boards, glassware, and custom parts made from any material. We also manufacture filaments, processed electron tubes, high-vacuum equipment, power supplies and custom-made numerical/analog controllers for commercial and industrial applications.
Our web store, ElectronTubeStore.com, supplies electronic parts, connectors, electrical hardware, metals, chemical products and research materials. Generally rare and hard to find items are out specialty. We ship worldwide, quickly and inexpensively.
Our Internet hosting service, Csoft.net has been in continuous operation since 1995. Csoft.net provides enterprise-grade web / e-mail / shell hosting. Our multiply-redundant server arrays (located in New York and Montreal) provide maximum speed and availability. In addition to general-purpose hosting, csoft.net also offers dedicated server clusters for intensive applications such as graphics rendering and scientific computing.
Our unique collection of Free Open-Source Software includes libraries / development toolkits, content creation tools, Unix server daemons, as well as design and engineering applications.