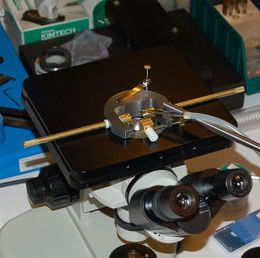 Hypertriton is a company based in Quebec. We design, develop and support free open-source software to serve the public, developer and business markets. We also provide custom-manufactured items, speciality hardware and research materials to customers worldwide.
Our Software includes development libraries / toolkits, CAD and content creation tools, Unix server daemons, and CAM / machine-control systems.
Our online store, ElectronTubeStore.com, supplies electronic parts, connectors, electrical hardware, metals, chemical products and research materials. Generally rare and hard to find items are out specialty. We ship worldwide, quickly and inexpensively.
If you have any inquiries, please don't hesitate to contact us.
Precision Machining / Parts Manufacturing
Traditional lathe work
Vertical Milling / Production Drilling
Horizontal Production Milling & Jig Boring
Through-Hardening and tempering of steel
Internal and external threading
Broaching
Glassworking (soft glass, lead glass, borosilicate, quartz fiber)
Precision grinding and polishing:

Aluminium oxide grinding (metals)
Diamond grinding (glass, ceramics, carbide, non-metals)
Lapping and polishing
Stoning / Polishing

Precision Balancing

For Shafts, Fans, Rotors, Impellers, Propellers, Flywheels, etc
Capacity: 1000 lbs, 20" swing

Sheet metal work:

Punching & Fine Blanking (100 Ton)
Deep Drawing (forms up to 4" deep)
Metal Spinning (up to 12" dia.)
Maximum sheet width: 48" (1219mm)
V-Notching capacity: 6" (152mm)

Winding of coils / filaments / elements
Printed Circuit Boards

Capacity per batch: 1000 sq.in of surface (dual-sided)
Dual-sided layers with vias
Laminated photopolymer exposition
Minimum via diameter: 0.4mm (1/64")
CNC drilling / milling up to 45,000 rpm
Vacuum Processing
Fabrication of glass electron tubes
Thin-film deposition

Ion-beam deposition
Thermal evaporation

Vacuum degassing
Vacuum brazing
Ion milling
Electronics Engineering
PCB design, fabrication and assembly
Available instruments:

Spectrum Analyzer HP 8566A (100Hz - 22GHz)
Analog Curve Tracer (Tektronix 576)
Dynamic Signal Analyzer (HP 35660A)
Multimeter HP 3457A (6-1/2 digits)
Analog and Mixed-Signal Oscilloscopes (100MHz)
Precision LCR meter (100Hz ~ 10kHz)
USB Protocol Analyzer (USB Chief)
Firewire Protocol Analyzer (FireInspector)
PCI/PCI-X Protocol Analyzer (Agilent)
Programmable Power Supplies:

Advance HiVolt 400 (4kV 75mA)
HP / Agilent 6621A (voltage std)
Ion Tech MPS-3000
Perkin Elmer (10kV 10mA)
Sorensen / Xantrex XT-30 (30V 2A) x 4
Xantrex XKW 60-50 (60V 50A)
Xantrex XKW 40-75 (40V 75A)
Parts Cleaning
Abrasive blasting
Ultrasonic degreasing (solvent-free)
Parts cleaning with ultrapure solvents and acids
Vapor degreasing with chlorinated solvents
Ion milling
Parts Finishing
Lapping/polishing, hand scraping
Bead blasting
Aluminium anodizing
Copper and nickel plating
Chemical polishing / electropolishing
Powder coating
Welding and Brazing
TIG welding
Hydrogen / controlled-atmosphere brazing
Resistance spot welding
Flash welding of wire (end-to-end)
Spray welding (Rototec process)
Mini-Foundry
Sand casting
Crucible casting:

Metals: Aluminium, Brass, Bronze, Zinc, Precious Metals
Capacity: 32lbs (14Kg) of red brass
Microscope work
Micromanipulation lathe
Micro-tools, micro-torch
Glass / optical fiber work with laser
Material Testing & Analysis
Inverted optical / metallographic microscope
Polariscope
Tensile test equipment
Compressive strength test equipment
HPLC (high-performance liquid chromatograph)
GC-MS with simple quadrupole
LC-MS with APCI/ESI ionization (Waters Micromass)